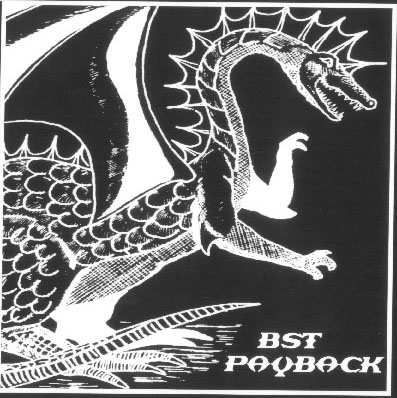 Erick Jackson: Guitar
Jeff Schmid: Drums
John Totaro: Bass
Peter Willsey: Guitar and Vocals
BST Payback has taken the Washington City Paper Pop Quiz!
---
"Washington DC's heavy and hard BST PAYBACK got power in their two-song punch, that's for sure . . . everything is blazing dangerously in the red . . . sumthin' to sink my teeth into . . . down home . . . big cock . . . Maybe next time you can talk a little dirty to me first."
--Maximum RockNRoll, December 1999
---
BST Payback - Dragon, Fandango
"Great garage punk rock from America. Two songs in one. I like the heavy intro on 'Dragon.' If you want to hear it, buy the single. One can't compare BST Payback with anybody because they sound like themselves, good! No real hit song on the single, but both are good. And Jake, thanks for the limited green wax."
--DenimZine #3, September 2000
---
The "Bio": BST Payback is the Washington DC band that rocks it hard gives the people a damn good show plays the tunes that give the people a good shaking play that shit again and again because you know you never felt it like that before. The BST Payback record will put the life back in your life soak you with magic rock punk power sludge music make you productive and happy. BST Payback oh yeah!

The BST Payback 7" on the Fandango Records label has two songs on it.

SIDE A:

: BST Payback can be typically found in swamps and marshes, although they can be found in subterranean lairs also. BST Payback always seeks to lair in deep dark caves. They are abusive and quick to anger with an instinctive cunning and malevolence that makes up for their lower intelligence. They are extremely selfish and resent intrusions. The diet of BST Payback is fish and mollusks. When they get meat from land, they like to let it soak in ponds near their lair before consuming it. The breath weapon of the BST Payback is not that of fire. Their breath weapon is spitting acid.

SIDE B:

: BST Payback is the rock that levels by itself, supports like a solid, fills inaccessible voids, requires no labor, is non-toxic, and comes in two forms: excavatable or nonexcavatable, unless you use a jackhammer. BST Payback allows you to design and select tunnel and mine supports using theoretical and empirical methods that take account of interaction of support and rock mass, rock failure with time, tunnelling speed, existing support, and grouting. Utilize BST Payback correlation formulae to determine rock mass strength, deformation and creep.
---
Contact BST Payback at
totaro@erols.com
or
pastycakes@mindspring.com

Check out BST Payback on MP3.com!
---
Fandango Records
3403 Mt. Pleasant Street, NW
Washington, DC 20010 USA

---
This site maintained by Jake Starr. Last update 9/26/00.
---
[Fandango Records | E-mail]